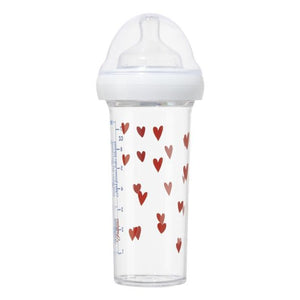 This slim 210 ml "Coeurs" bottle holds up to seven doses of milk powder and your baby will rapidly take pleasure holding it. It belongs to our family of multi-stage bottles, wholly made in France. When using the "Coeurs" bottle you can alternate with our other multi-stage bottles: a 360 ml bottle and a 210 ml bottle.
All bottles are made with 100% Tritan ® which is what gives them their unique transparency. All large neck teats are 100% pure silicone. This bottle is already provided with a size S teat, perfectly suitable for use from birth. If you wish you to use the "Coeurs" bottle for an older baby, you can use a teat M, suitable for children over 6 months of age.
Made in France
Size: 
Manufacturing: 
All

 products are 100% made in France. All baby bottles are manufactured exclusively at Oyonnax France.

 

Teats-nipples 100% pure silicone are manufactured exclusively in Saint-Vidal France. These factories are both certified Iso 9000 and are audited regularly. Being near these factories we have a careful eye on the quality that we demand irreproachable.
Fabrics:
Tritan, Silicone
BPA free